Cigarette Litter Prevention Program
Through our partnership with Keep America Beautiful, Delawareans have an opportunity to participate in the nation's largest program aimed at reducing cigarette litter. Community members can start making a change by installing free receptacles at their business, home or local park to help fight the most commonly littered item in America – the cigarette butt. Keep Delaware Beautiful has also made available, free pocket ashtrays available to all Delawareans.
Why Participate?
For every additional litter stand, the littering rate for cigarette butts decreases 9%.
The majority of smokers said they would properly dispose of their butts if suitable receptacles were available.
Litter stands and hardware are offered for free and included with the butt bins.
Cigarette butts are the most commonly littered item in America.
Cigarette butts take five years to decompose.
CIGARETTE BUTT RECEPTACLES
Click here to request a receptacle.  Once we receive your request, someone will be in contact with more information and the receptacle agreement for you to sign and send back.
Requirements
Install the litter stand(s) in an accessible place (e.g., outside entrance to retail location, or transition point where adult smokers commonly dispose of cigarette butts). Hardware is included to mount each receptacle.
Maintain litter stand(s) by regularly emptying the bins and disposing of butts properly. Keep Delaware Beautiful can provide information on best practices for disposing.
Litter Stand Specs
Dimensions: 4" x 4" x 14"
Made of aluminum with black powder coating
Empties from the bottom, by removing the shackle lock
Shackle lock and two nuts and bolts are included with the litter stand
POCKET ASHTRAYS
The use of a pocket ashtray will decrease the number of cigarettes littered by motorists and pedestrians. Keep Delaware Beautiful is giving these pocket ashtrays away for free to any Delaware Residents who requests one. Click here to order yours today.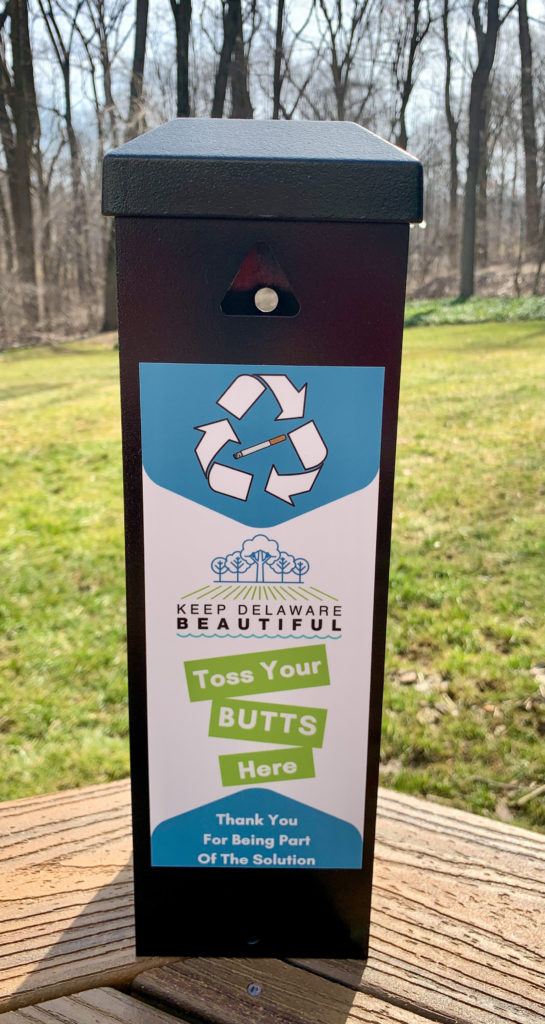 Thank You To Our Current Partners

Delaware State Parks
Shady Park Mobile Home Community, Selbyville
ShopRite of Christina Crossing
Six Paupers Restaurant, Hockessin
Town of Bethany Beach
Town of Henlopen Acres
Ulysses Gastropub, Wilmington